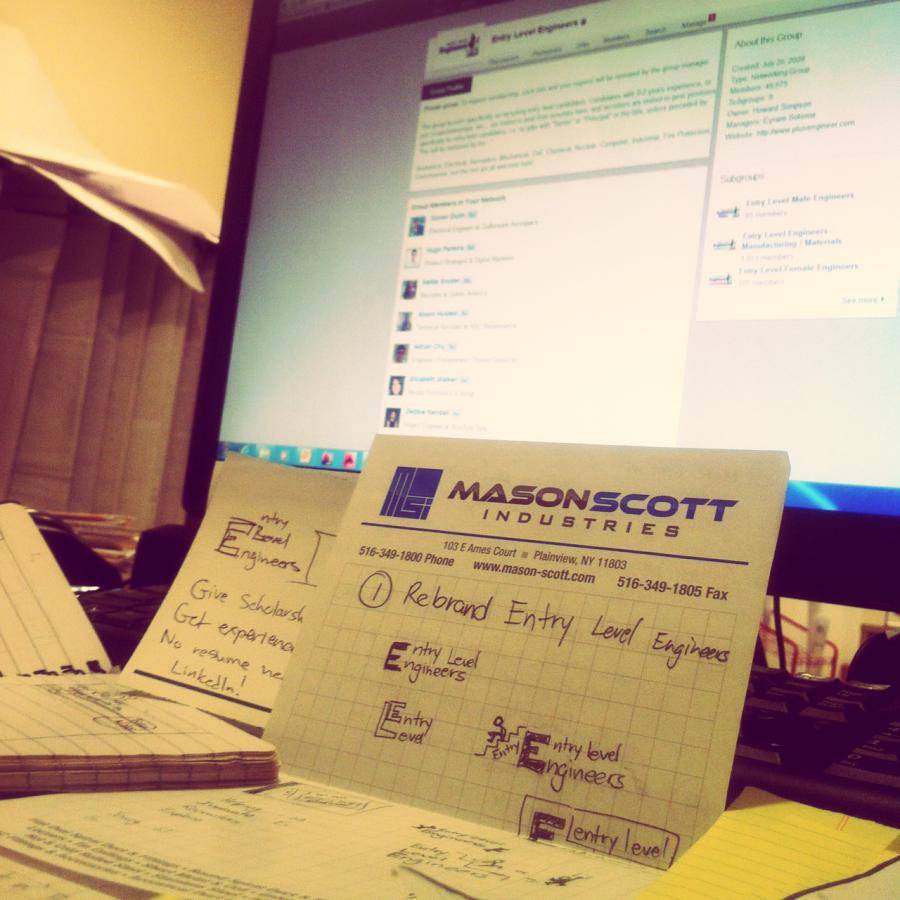 UPDATE: Voting has now begun! You can vote simply by commenting on this post. Share it, Like it, and PICK A GOOD LOGO! Remember, anyone can vote.
Logo design is cool.
Ever since June, I've been managing the LinkedIn group called "Entry Level Engineers".
These young (and old) engineering students and graduates are all looking for employment but most can't hit the mark when it comes to job hunting and finding a job in their area. So, we are having a logo contest.
Yep… because we are cool (Only makes sense, right?)
Below you will see the rules for the contest and the form needed to enter. In the meantime, here are the main details:
– The Logo Contest is for one simple reason: To rebrand our image as an authority group on LinkedIn
– The contest starts on October 8 and will end October 29 at midnight (U.S. EST)
– Voting will begin on October 30 (once all the pictures are posted) and will run until November 5th at midnight (U.S EST)
– The final design of our logo will be fly high on our profiles December 1.
– The Winner: You will be given recognition in front of the whole community. Awesomeness will be your name. You don't need a prize! But, I'm giving you a $50 Visa Gift Card anyways 🙂
– The Other Winners (that didn't win): You'll be inspiring others to work on themselves and use their creativity. Also, you get to contribute to the final design once the contest is over. Let's go.
– How To Vote: Simply comment on this page. You can choose 3 so choose your favorites and let the battle begin!
Entry Level Engineers Logo Contest Rules
Eligibility
Only those in the ELE LinkedIn Group. If you aren't a member, send me an email and I'll get you there.
Contest Period
The contest starts on October 8, 2013 at 3 PM (U.S EST) and ends on October 29 at midnight (11:59:59 U.S EST). Entries submitted before or after those dates will be disqualified.
Voting will begin on October 30, 2013 and end on November 5, 2013.
How To Enter
All submissions can only be submitted through the form below.
You can submit as many entries as you want. The more ideas you pull out, the more chances you have of winning.
Submissions include: Photos, Graphic Art, or a scribbled Idea. Text submission, encompassing a GOOD idea, are also accepted.
Winner Notification
The winner will be notified by email and will also be posted on this website.
NOTE: Even though someone will win the contest, all those that participate can contribute the final design. It will be a great discussion that will truly help everyone decipher what is best for the group.
Prize
$ 50 Visa Gift & the bragging rights to say you owned 100's of engineers. Now, hire me.
General Conditions, Liability, and All The Legal Stuff
If you are that concerned about looking at the legal stuff, I warned you. Close your eyes and click this link: Legal Torture
Here is the Contest Form! (On To Voting!)
Submissions are now closed. It's time to vote!
Some of you guys sent me your actual pictures (which was hilarious) but I'm only accepting logos so tough luck…
Which ones you do you guys like the best? (Remember, this is not the final design so you can pick as many as you want!)
How you do feel about the contest? Speak your mind in the comments below!