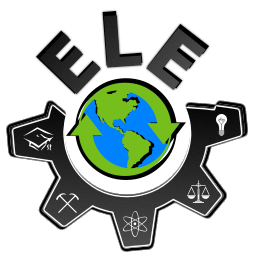 Hey Everyone,
Thanks for participating in the ELE Logo Contest!
Jasmin is very busy so I couldn't get us a conference but you can still contribute to the final design of the logo.
Jasmin's Design Criteria:
Earth – International. We are an international community.
Arrows – We are sustainable. Not just a fail community but we care about the community.
Gear – It is the most common sign to represent engineering.
The gear categories were as follows (from left to right):
1) Graduation Cap – We've all graduated
2) Mining – mineral exploration
3) Atom – many fields of science (chemistry, physics…)
4) Balance – We must follow the law.  We must also keep a balance between environment and $$$.  We only have only have one planet after all.
5) Light Bulb – Intelligent and energy in general
Jasmin says "I'm biased but I think it looks good and is quite simple for it's context.  I can always look at what you make and give you an honest opinion."
The Questions:
1. How do you see this as your logo? Does it represent you?
2. How can this design be improved?
3. What are the problems with this design?
4. Any elements you would like to see added?
5. What things from other logos (including yours) would you want to see incorporated into the final logo?
Please share your thoughts below! We have a deadline of finishing before December 1 so let's do it!